***** - A superb guide pitched well at it's target audience!, 19 Dec 2011
By Kevin Stratton - See all my reviews
This review is from: The Stage Lighting - The Technicians Guide: An On-the-job Reference Tool with DVD Video Resources (Performance Books) (Paperback)
I had the pleasure of being able to read this publication before release, and I would say that the final copy is pitch perfect. I teach and instruct as a Production Technician at one of the country's leading 16-18 Performing Arts Institutions and I have now made this publication a firm part of my 6 week short technicians course as well as insisting they buy a copy themselves. I had previously been very impressed with the "Give Me Some Light" range by the same author, and I now found that it has been brought up to date, improved upon and made more useful, the latter largely due to the size of the book/dvd combo. Its the splitting of subject and details into 3 sections giving basic, advanced and extra information. Its perfect for those I think requiring a backup to their knowledge and a fresh perspective on techniques as well as those just starting their training to those at the later stages of training. Schematics, useful charts and tables, and a very handy glossary of terms improve upon other books and resources (I have been favoured with Frances Ried's and Neil Fraiser's collections for many years). Well written, easy to use from both lecturer and student perspectives, any perspective technical theatre or for that "more rounded performer" any actor, dancer, stage professional should aim to have at least this book in their armoury. A hearty congratulations to Skip as this book will live long and form the foundations of many-a young technician's formative years. I DO wish I'd had this when training, my students will.
Full Circle – Theatre Book Presentation
Left,Skip Mort presents his book 'Stage Lighting – The Technicians Guide' to Anne Dinan at Exeter University
<![if !vml]>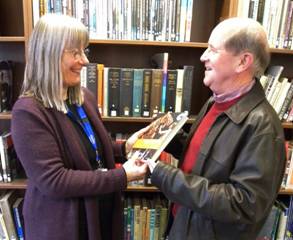 <![endif]><![if !vml]>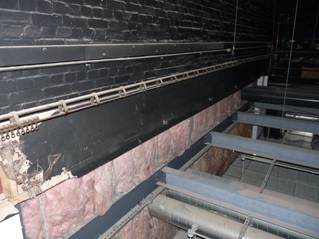 <![endif]>
Right, The house tab track and remains of the proscenium arch looking down onto the suspended ceiling over the former stage of St Luke's College Theatre
So what's the connection?
High above the ceiling of the science laboratories on the St Luke's campus there remains a reminder of the former use of this space.  The pulley blocks, lines and bars in the fly tower above are all that remain of a theatre which served as a major Exeter venue for amateur and professional touring performances following the closure of the Theatre Royal.  A group of former colleagues recently toured the space, reliving former memories of its original function.  They came together to mark the presentation to the University Library of a new book 'Stage Lighting: The Technicians Guide' recently published by Methuen Drama.  Author Skip Mort gave the book, which has attracted many positive reviews, to Librarian Anne Dinan.  Skip studied and subsequently worked in the Drama Department at St Luke's College of Education prior to its merger with Exeter University in 1978.
Skip became a great friend and associate of Maurice Marshal and David Whitehead in the early 70s while teaching and managing the theatre and drama spaces at St Luke's.  Maurice was then Chief Electrician at the Northcott Theatre and David serving an apprenticeship with him both running their own separate companies 'MM Lighting' and 'Sounds in Transit', prior to their merger to form the Stage Electrics partnership.  Much equipment passed in and out of the college theatre especially over the weekends to help cover the inevitable shortages on the changeover days of their fledgling hire companies. 
Some 23 years later after, leaving St Luke's and when Skip took early retirement from teaching in a comprehensive school, their paths crossed again with an invitation to work as an associate with Stage Electrics and to develop his own consultaancy providing lighting workshops, training and support for teachers and students.  This eventually led to the production the workshops on three DVDs with the encouragement of Maurice, sponsorship from Stage Electrics and other major equipment manufactures.
Following on from the production of the educational resource material 'Give Me Some Light!!!' Skip wrote a number of articles for the 'Teaching Drama' magazine and was commissioned by Methuen Drama to write a basic foundation textbook on stage lighting.  The Technicians Guide has been written primarily for post-16 FE  production arts courses and for students in preparation for post-18 HE specialist courses in stage lighting.  A further link with David came with his offer to proof read also assisting with the technical editing of the script. 
Maurice only saw the script in the earlier stages of development, encouraging and supporting the project, sadly he died before the Guide was published.
It seemed fitting that 'Stage Lighting – The Technicians Guide' should be dedicated 'for Maurice' as he encouraged and provide apprenticeships for so many young technicians during his career for which he was recognised with an MBE.  That there is now a copy in the library at St Luke's brings his life time's contribution 'Full Circle'!
'Stage Lighting – The Technicians Guide'  An on-the-job reference tool with DVD video resources is published by Methuen Drama, Bloomsbury Publishing Plc, ISBN: 978 1 408 12357 7